How does Ultrasound Therapy Work?
Ultrasound therapy is another form of treatment to help ease the pain and stiffness of sore, injured and/or overworked muscles in addition to speed up healing.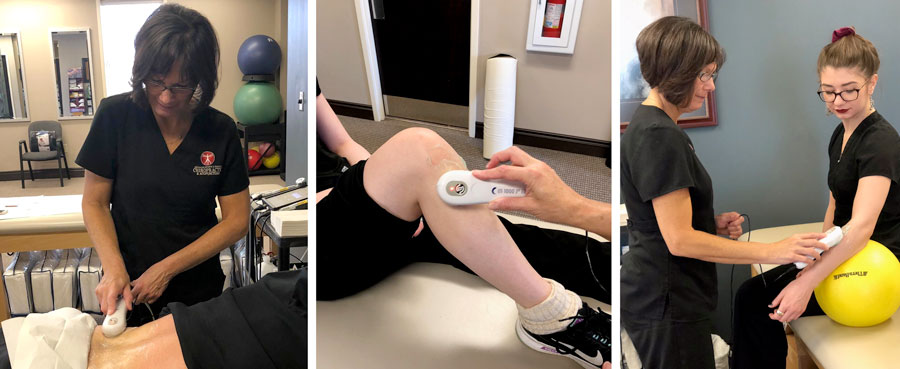 Ultrasound Therapy Units produce soundwaves that emanate treatment through ultrasonic vibrations to the troublesome area. These waves move almost a million times per second creating a therapeutic vibration for targeted therapy care.
An ultrasound gel is utilized to reduce the static between the device and your skin and optimize pentration. This also ensures smooth movements over tender areas in need of pain relief. Ultrasound therapy feels excellent and is used for both for its corrective purposes in addition to relief.
How does Ultrasound Therapy Work?
Ultrasound therapy emits ultrasonic waves into the body at the site of treatment. These waves produce vibrations and increase blood flow to the injured areas. Increased blood flow promotes healing, reduces swelling at the site and decreases pain.
In the beginning, treatments start at a low ultrasound frequency and gradually increase to a therapeutic level to bring the most relief to the injured site. Treatments usually last between 8-12 minutes for each session.
I have an OLD injury and have lost some range of motion, can Ultrasound Help?
Ultrasound therapy can help breakdown scared tissue from previous injuries, which can limit range of motion. If the event that ultrasound therapy alone is not enough to restore optimal range of motion (ROM), your chiropractor may suggest Graston Therapy to break up the harder scared tissue, and pair it with ultrasound therapy and chiropractic adjustments and physical therapy exercises.
Ultrasound therapy helps calm muscle spasms, which allows for more movement and ease of range of motion. Most often, therapy exercises will be incorporated with your treatments. This is to ensure that range of motion improves between ultrasound therapies.
I have Plantar Fasciitis, Can Ultrasound Therapy Help?
Ultrasound therapy can help with Plantar Fasciitis. The ultrasound waves can penetrate the thick skin of the feet and help reduce inflammation in the fascia and tendons, which cause the Plantar Fasciitis pain.
Does Ultrasound Therapy Hurt?
No, most people find ultrasound therapy VERY RELAXING. In fact, most people feel some immediate pain relief after the therapy is complete.
Ultrasound therapy can help treat:
Muscle soreness/aches/pains/inflammation
Alleviate swelling in the joints
Increase flexibility
And much much more…
If you have specific questions about how Ultra Sound Therapy may help you call our office and request a free consultation to meet with the doctor, ask your questions and see how we can help you! Life is not a race to the finish line, but an adventure waiting to be explored! Together, we can accomplish many health and wellness goals. Pain should never be a lifestyle… Preventing it should be.
Schedule an Appointment – We are here to help you!
Overland Park, KS Clinic
6701 W. 121st Street  |  Suite 200
Overland Park, KS 66209 913-643-1771  913-643-1775
Lee's Summit, MO Clinic
338 Southwest Main St.
Lee's Summit, MO 64063 816-600-5483  816-524-5328
Belton/Raymore, MO Clinic
17027 Bel-Ray Blvd.
Belton, MO 64012 816-425-7015  816-425-2117