Some of the most qualified and current science and research proves why Chiropractic adjustments have a great influence on internal organ functions and all tissues of the body. Chiropractic continues to triumph over the old adage that adjustments only serve to manage neck and back pain. Recent research proves that Chiropractic care improves the internal functions of the body, not only raising quality of life but also overcoming chronic disease-type physiology.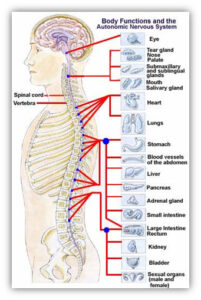 Medical science agrees that body chemistry serves as one of the main contributing factors in determining the health of an individual. Balanced chemistry leads to increased function and performance. A 2003 study showed that administering a force (just like that of a Chiropractic adjustment) helps regulate cell biochemistry and gene expression. A Chiropractic adjustment can help change the health and expression of all cells in the body through biochemistry. From heart rate to breathing, and immunity to fertility, every aspect of body function is directed by body chemistry. Chiropractic adjustments positively change body chemistry and lead to better overall health.
The biggest challenge standing in the way of more families experiencing the great benefits of Chiropractic described in this study rests in a lack of understanding of how powerful of a part the nervous system plays in health care. Chiropractic adjustments became most well-known for helping with back and neck pain, though the founding fathers knew that a healthy spine and nervous system were capable of so much more. Current research and science dramatically impact those old neck and back adages, proving what true Chiropractic science believed all along. Chiropractors now pursue the goal of educating society and local doctors across the entire profession.
Schedule an Appointment - We are here to help you!
Overland Park, KS Clinic
6701 W. 121st Street  |  Suite 200
Overland Park, KS 66209
 913-643-1771
  913-643-1775
Olathe, KS Clinic
10454 S. Ridgeview Rd.
Olathe, KS 66061
 913-689-2333
  913-689-2334
Prairie Village, KS Clinic
4121 W. 83rd St. |  Suite 147
Prairie Village, KS 66208
 913-490-4444
  913-490-4445