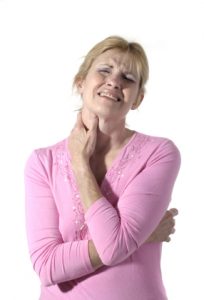 Have You been Diagnosed with Fibromyalgia?
If so, you are probably trying to figure out what that means for you. Fibromyalgia is a condition that causes mild to severe generalized musculoskeletal pain and inflammation. It is often accompanied by fatigue, memory and mood issues and sleep disturbances. Symptoms sometimes begin after a physical trauma, surgery, infection or significant psychological stress. In other cases, symptoms gradually accumulate over time with no single triggering event.
The exact cause of fibromyalgia is unknown and for many doctors the exact diagnosis method is based on signs and symptoms and specific points that are tender throughout the body. Researchers believe that fibromyalgia amplifies painful sensations by affecting the way your brain processes pain signals which is why our office can help!
Fibromyalgia is categorized as a very common disorder with more than three million new cases in the US each year. For unknown reasons, women are much more likely to develop fibromyalgia than men. Many people who have fibromyalgia also have tension headaches, temporomandibular joint (TMJ) disorders, irritable bowel syndrome, and anxiety and depression, which often exacerbate the condition. Simple daily activities such as carrying in the groceries or walking up a flight of stairs can seem impossible.
We can help you with fibromyalgia. While there is no cure for fibromyalgia, a variety of treatments can be used to successfully alleviate symptoms and give you your life back. Exercise, relaxation and stress-reduction measures also may help. Our approach involves reviewing all of the soft tissues, joints and nerves throughout the body and reducing the irritations and interferences. We have many advanced tools available for your condition including Class IV Cold Laser, Acupuncture, Whole Body Vibration and light force Chiropractic.
Our team at ASFCA have had great successes with the management of this disorder. After a thorough exam, you will receive a Report of Findings that will map out the best treatment for your specific condition, which may include a combination of acupuncture, chiropractic adjustments, essential oils, and diet and exercise changes. All of these are designed to reduce the inflammation in the system and rebalance the body to help reduce the symptoms you experience every day.
Schedule an Appointment – We are here to help you!
Overland Park, KS Clinic
6701 W. 121st Street  |  Suite 200
Overland Park, KS 66209
  913-643-1771
  913-643-1775
Olathe, KS Clinic
10454 S. Ridgeview Rd.
Olathe, KS 66061
 913-689-2333
  913-689-2334
Prairie Village, KS Clinic
4121 W. 83rd St. |  Suite 147
Prairie Village, KS 66208
 913-490-4444
  913-490-4445