Near Infrared Light Therapy for Fat Loss, Skin Tightening and Healing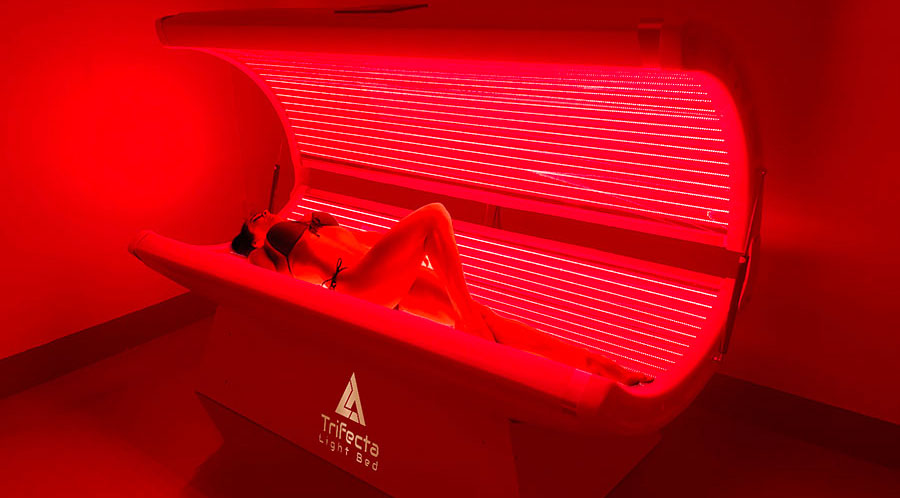 The Trifecta Red Light Therapy Program Enables You to Improve Your Health!
By stimulating fat cells with detoxifying unique wavelengths of red and near-infrared light, you can take inches off those hard to hit places like your waistline, hips, thighs, arms, and chin. The Trifecta Red Light Therapy Program treats all the areas of your body, especially those areas that are stubborn to diet and exercise. In fact, Trifecta Light Therapy patients lose between 5 to 20 inches in less than a month!
A Revolutionary Advancement in Weight Loss the Trifecta Light Therapy & Wellness Program
The Trifecta Therapy and Wellness Program offers simple nutritional suggestions and easy exercise options combined with a 10-15 minute, relaxing treatment that accelerates the fat burning capabilities within your body. In just one Trifecta Light session, your body can remove the equivalent amount of fat as completing SEVEN 30 minute cardio workouts!
The Trifecta Light Treatment is Painless.
You can expect to feel a gentle warming sensation. Most individuals will relax or listen to music, and some will take a nap during the 10-15 minute session. Trifecta Light Therapy are safe for almost everyone (certain contraindications preclude some individuals from being treated) and there are no negative side effects.
The Healing Nature of Red and Near-Infrared Light Therapy
Non-invasive red-light therapy is a safe natural effective way to treat chronic pain conditions throughout the entire body. Patients we treat with routine red light therapy sessions see a reduction in inflammation and pain symptoms throughout the body. If you're suffering form any of the following conditions Trifecta light therapy can help.
·         Back Pain
·         Neck Pain
·         Carpal Tunnel Syndrome
·         Tendinitis
·         Neuropathy
·         Joint Pain
·         Fibromyalgia
·         Sports Injuries
·         Headaches
·         Migraines
Patients of ASFCA Look and Feel Younger with Trifecta Red Light Therapy Sessions
The healing power of red and near infrared light therapy is undeniably effective when treating chronic pain, inflammation, and encouraging weight loss; but many of our patients are taking advantage of rejuvenating effects of light therapy.
Trifecta light therapy sessions offer a safe non-surgical, non-invasive alternative to other skin tightening and wrinkle reduction treatments. Red and near infrared does the healing by increasing collagen and elastin to reduce fine lines and wrinkles.
A Comfortable and Incredibly Convenient Procedure
One of the best parts about the Trifecta Light Therapy and Wellness Program is you can resume your normal activities immediately after the treatment because there is no recovery or downtime.
Lose 1-3 Inches in 10-15 Minutes During Your Trifecta Light Therapy Session
As you can tell, we are very excited about this breakthrough technology and would love to have the opportunity to tell you more about it. If you would like to improve your health and experience quick, but safe fat loss, please contact the Overland Park, KS clinic location to schedule a session.
*New patients: please save up to 60 minutes for each session & 30 minutes for follow-up treatments! 
Call 913-794-3490 Today to Reserve Your Spot.
Follow us on Facebook – Click Here