What is Whiplash?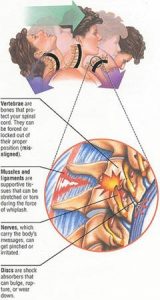 Whiplash occurs when you have a hyper-stretching motion of the cervical spine during a front, rear, or even side impact collision. These are often referred to as Cervical Acceleration/Deceleration (CAD) injuries and can be quite devastating. They occur when your neck is stretched in a quick flexion/extension motions due to forces impacting the car that translate through you as the passenger.
Whiplash is far more common due to motor vehicle accidents and new research indicates that even at lower impact speeds, passengers can still experience significant trauma. In fact, according to a recent research article by Arthur Croft published in Dynamic Chiropractic," It appears that the threshold for injury, even in adult healthy volunteers under ideal laboratory conditions, may be as low as 2.5 mph." This means that even though your car may not have much damage, your body can absorb the forces of the impact creating damage. The forces of striking or being struck by another vehicle can damage joints, ligaments, tendons, and even the cervical discs that act as shock absorbers between the vertebra of your neck. These forces can go beyond the body's anatomical limit or threshold, leading to permanent damage within these soft-tissue structures in some cases.
Many patients notice that quickly after an accident muscles begin to tighten down or even spasms in a process that tries to ensure protection to more important areas such as the spinal cord. Spasms, neck stiffness/tightness, and decreases range of motion may all be indicators that you've suffered significant damage enough to lay down a protective layer of scar tissue. Even though your body is trying to protect itself, this scar tissue can lead to chronic pain, degeneration, and limit motion within your spine. So it's important to not wait to seek care, but rather the earlier the better. In fact, if tissues are not restored to proper function within the first few weeks scar tissue and inflammation can permanently destruct the joints of the spine, including the discs.
So How is Whiplash Treated?
Since whiplash injuries often involve a complex number of ligaments, joints, muscles, and other soft-tissue structures a multi-focal approach is best used to manage the injury. The most important thing to remember is that pain is seldom the first indicator when it comes to internal injuries. A comprehensive [Chiropractic] examination is recommended to evaluate the extent of the condition and further treatment may be deemed necessary to prevent advanced destruction from scar tissue.
Although ice, over-the-counter painkillers (Advil, Tylenol, Ibuprofen, etc.), and muscle relaxers may temporarily give relief when experiencing whiplash injuries, they do not address the source of the problem. In fact, these approaches can sometimes create even more problems due to lack of sensation by "masking the pain" if the injured person participates in activities that are not yet safe to perform.
Careful, specific Chiropractic adjustments are performed to restore proper range of motion with the joints of the cervical spine allowing your body to heal within. Often other techniques such as soft-tissue massage, e-stim, ultrasound, and other therapeutic modalities are incorporated to help you restore lost function. These tools along with nutritional support, ergonomic advice for your car, and rehabilitation exercises help to promote proper healing allowing your body to return to a state of maximal health.
Schedule an Appointment – We are here to help you!
Overland Park, KS Clinic
6701 W. 121st Street  |  Suite 200
Overland Park, KS 66209
 913-643-1771
  913-643-1775
Olathe, KS Clinic
10454 S. Ridgeview Rd.
Olathe, KS 66061
 913-689-2333
  913-689-2334
Prairie Village, KS Clinic
4121 W. 83rd St. |  Suite 147
Prairie Village, KS 66208
 913-490-4444
  913-490-4445