The focus for a Doctor of Chiropractic is to take a holistic approach to optimize the nervous systems flow to the entire body, despite the many demands we put our body through each day.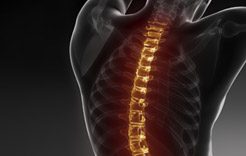 The nervous system attempts to hold our spine aligned by activating muscles to stabilize the bones. Muscles are connected to adjacent muscles by a tissue called fascia. When one muscle is activated, the others around it are pushed or pulled upon and an overuse or imbalance can lead to injury. Fascial planes travel from the top of your head to the bottom of your feet and from one small muscle to another.
There are several techniques that have been developed to address myofascial injuries. Such techniques are Myofascial Release Therapy – MFR, Active Release Therapy – ART, Instrument Assisted Soft Tissue Mobilization – IASTIM and Graston Technique to name a few. These techniques target adhesions in overused or injured muscle and fascial tissues. Your Doctors and therapists at Advanced Sports and Family Chiropractic + Acupuncture can help you determine what the best course of care is for you.
How does a Fascial Injury Occur?
The most common injury occurs when the bones in the body are misaligned, causing an imbalance of muscle firing or abnormal biomechanics. Sometimes, we will see an extreme where muscles are overworked due to being in a constant contraction state from unstable joints. This is most common with people who have sustained ligament or tendon injuries but can also come from repetitive injuries which lead to poor posture. For example, someone whose head is in a forward position from an abundance of texting, called "text neck," leads to reversed cervical curves.  A person who las leg length imbalances has a constant torque and twist of the pelvis. People who sit at an unergonomic desk and chair at work or home can lead to neck, back, arm and hip issues, etc…
How can Fascial Injuries be Healed and the Body Strengthened to Avoid Reinjury?  
That answer is very specific to individuals. A full body assessment is required for proper diagnosis. Most of the time, the correction is through a series of specific chiropractic adjustments of the bones, myofascial work on dysfunctional muscle and fascia tissues, followed by proper prescribed exercise to strengthen underused muscles. By addressing each system, we can improve stability and correct the joint and myofascial function for the long term. This allows people to live without aches, pains, or the threat of not being able to maintain favorite activities in the years to come.
What does it feel like to receive a Myofascial Release Therapy?
Patients are put through a specific range of motion in order to shorten a muscle, target an adhesion (some may feel as knots or tender points along a muscle), and lengthen the muscle. Thus, breaking up the adhesion, increasing the flexibility / strength of the muscle, and allowing proper physiology of the muscle.
The relief can be both immediate and in time. Some adhesions in or between muscles may have nerves nearby which become entrapped and become very chronic and painful. Examples of this are often found in carpal tunnel, tension headaches, and anterior thigh pain / numbness, shin splints and calf pains. Patients often describe this treatment to be "tender" during the process but feel almost instant release and improved movement post treatment.
Important Message from ASFCA

The doctors of ASFCA want to stress that each patient should be assessed individually by a Chiropractor who has taken advanced training in areas such as Certified Chiropractic Sports Physician® or taking courses in ART, IASTIM or Graston. Certified doctors will have these letters at the end of their name:
Dr. Bradley Woodle: DC, CCSP, FASA, CSCS
CCSP: Certified Chiropractic Sports Physician
FASA: Fellow of the Acupuncture Society of America
CSCS: Certified Strength and Conditioning Specialist 
Schedule an Appointment – We are here to help you!
Overland Park, KS Clinic
6701 W. 121st Street  |  Suite 200
Overland Park, KS 66209
  913-643-1771
  913-643-1775
Olathe, KS Clinic
10454 S. Ridgeview Rd.
Olathe, KS 66061
 913-689-2333
  913-689-2334
Prairie Village, KS Clinic
4121 W. 83rd St. |  Suite 147
Prairie Village, KS 66208
 913-490-4444
  913-490-4445