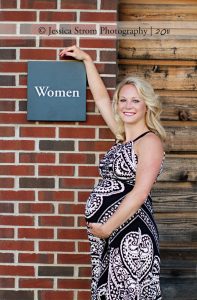 Pregnancy is a special time, ideally it should be a wonderful, healthy experience.Many people believe that back and joint pain is "normal" during pregnancy, due to the added weight being carried, hormonal changes and how the female body is actively changing. Although back and joint pain is "common", it is a misconception that it is "normal".
Chiropractic care is a great preventative care choice for expectant mothers not to mention research has shown 'reduces labor time and dystocia' for pregnant mothers. Chiropractic helps the female body accommodate the changes that are taking place and helps to prepare for your body for delivery.
Every expectant mother wants a comfortable pregnancy and an easy delivery. Prenatal chiropractic care can help to achieve both by focusing treatment on nerves that are in the spine that effect the pelvis, uterus and even contractions during the delivery process. During labor and delivery stiff joints and nerve interference can minimize the strength of contractions which can slow a baby's decent during labor. Chiropractic care during pregnancy helps to maximize nervous system function and in combination with regular prenatal care it can increase the strength of contractions during delivery.
Chiropractic care is also very beneficial if the baby is in breach presentation where the baby's head gets trapped in an up position vs. rotated down in preparation for delivery. This is commonly caused by the ligaments that attach to the uterus being too tight causing misalignments in the pelvis. These ligaments are connected to the large wedge-shaped vertebra at the bottom of the spine called a sacrum. Sacrum misalignment is common, and if it is affecting the ligaments attached to the uterus it can often cause intrauterine constraint which prevents the baby's head from rotating into the down position.
In the case of breach presentation, ASFCA chiropractors are certified in a technique called "Webster Technique". The Webster technique focuses on realigning the sacrum and pelvic joints which allow the ligaments shaping the uterus to return their ideal shape and relax. Encouraging the baby to rotate into the head down position ideal for a safe and easy delivery.
The doctors at ASFCA would love to care for you and your precious little one during your very special and crucial time of development! We are specialty board certified by the International Chiropractic Pediatrics Association to take care of mothers and babies.
The Benefits of Chiropractic & Acupuncture Care during Pregnancy Include:
Maintaining the pregnancy
Controlling vomiting
Increased likelihood of full-term delivery
Reduction in the time of labor and delivery
Relief of back, neck or joint pain
Prevent a potential cesarean section or vaginal breech delivery
What about morning sickness? Try acupuncture it is very effective in reducing the symptoms of nausea during early and late pregnancy and can really improve your ability to provide your bundle of joy with the best nutrition possible during those early stages of growth and development.
How Acupuncture Can Help During Pregnancy
*Our office is a member of the ICPA – International Chiropractic Pediatric Association
*Our office is a member of the APA – American Pregnancy Association
For more articles on pregnancy visit: http://icpa4kids.org/
Schedule an Appointment – We are here to help you!
Overland Park, KS Clinic
6701 W. 121st Street  |  Suite 200
Overland Park, KS 66209
  913-643-1771
  913-643-1775
Olathe, KS Clinic
10454 S. Ridgeview Rd.
Olathe, KS 66061
 913-689-2333
  913-689-2334
Prairie Village, KS Clinic
4121 W. 83rd St. |  Suite 147
Prairie Village, KS 66208
 913-490-4444
  913-490-4445