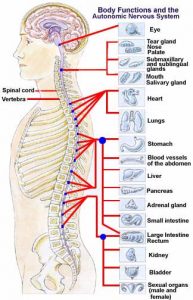 Nerve Pain symptoms usually are felt as a burning, aching, tingling, or numbness sensation that is in the tissues that are controlled by that nerve. There are many different types and causes of nerve pain in which both Chiropractic and Acupuncture are very effective methods to relieve your nerve pain and related condition.
Many nerve pains are caused by a sudden traumatic event, such as in a slip or fall, an automobile accident or by a sports injury. Overall stresses of the body from bad posture and being overweight may lead to nerve pain over time also. This is called a cumulative trauma. When nerve pain is present something is putting pressure on that nerve and our job is to find the cause. Chiropractic adjustments and Acupuncture treatments will help relieve this pressure and correct many of the conditions that cause this damage.
When you see your Chiropractor or Acupuncturist for treatment to relieve nerve pain, your Chiropractic/Acupuncture doctor will first determine the cause of your nerve pain by obtaining an accurate health history and by performing a physical exam. There will also be orthopedic and neurologic testing done to determine what precise nerve is affected. This will help your doctor here at ASFCA narrow down the exact source of the nerve pain. [Sciatic] is the most common cause of nerve pain. Sciatica occurs when the vertebrae of the spine are misaligned putting pressure down on the tissue around the sciatic nerve. Anywhere in the body where ligaments and bones are not aligned correctly nerve pain and damage can occur. Nerve pain symptoms usually are felt as a burning, tingling, or numbness type sensation that is in the tissues that are controlled by that nerve.
All symptoms related to nerve pain are due to pressure from the tissues (bones, discs, and muscles) that are impinging the nerve. Chiropractic adjustments realign the spine and relieve the pressure on the nerve thus eliminating the pain and correcting the problem. Acupuncture uses tiny needles to stimulate the tissues to relax and reduce the inflammation in the tissues. Even the most severe nerve pain can be treated with one of these simple treatment options. Ice may also be prescribed to reduce inflammation and swelling to the area to help resolve the irritation in the surrounding tissues.
How Acupuncture Can be an Effective Treatment for Migraines
Schedule an Appointment – We are here to help you!
Overland Park, KS Clinic
6701 W. 121st Street  |  Suite 200
Overland Park, KS 66209
  913-643-1771
  913-643-1775
Olathe, KS Clinic
10454 S. Ridgeview Rd.
Olathe, KS 66061
 913-689-2333
  913-689-2334
Prairie Village, KS Clinic
4121 W. 83rd St. |  Suite 147
Prairie Village, KS 66208
 913-490-4444
  913-490-4445
Lee's Summit, MO Clinic
338 Southwest Main St.
Lee's Summit, MO 64063
 816-600-5483
  816-524-5328
Belton/Raymore, MO Clinic
17027 Bel-Ray Blvd.
Belton, MO 64012
 816-425-7015
  816-425-2117
Blue Springs, MO Clinic
622 SW US 40 Hwy
Blue Springs, MO 64014
 816-815-7007
  816-815-7008