Treat Your Headaches Naturally with Chiropractic & Acupuncture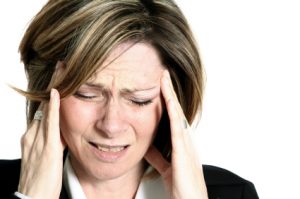 Headaches are one of the most common forms of pain experienced today. The pain can start suddenly or grow gradually over time. Some headaches are so severe that they can leave you afflicted for hours or days at a time.
Did you know… that American Neurologic Association states that only 3-4 headaches a year are "normal", any more than this should be evaluated?
Many people consider headaches to be a minor condition that doesn't necessarily need the attention of a healthcare professional. Most people are inclined to take some sort of pain killer and deal with the pain. What they don't understand is that, while the pain killer may take care of the pain, it does nothing to address the actual cause of the headaches. Headaches can be an indication of other more serious health problems and should not be taken lightly.
If frequent headaches prevent you from enjoying your life, then allow the experts at Advanced Sports Family Chiropractic & Acupuncture to help you today. Conveniently located throughout the Kansas City metro area, ASFCA's board-certified doctors of chiropractic and acupuncture can relieve your headache pain and help you live your best life today.
Headaches Should Not Be a Normal Way of Life
Headaches affect people of all ages. Adults, teens, and children all are susceptible to the debilitating pain of headaches. Headache pain can vary significantly from person to person. They can be sharp, dull, throbbing, localized to a single spot, or hurt your entire head. People with chronic or frequent headaches experience decreased productivity at home, work, school, and recreation.
Living with headaches can seriously diminish your quality of life and may be an indication of larger health problems. Headaches can be treated very effectively through chiropractic care and acupuncture by concentrating on the cause of the headaches, chiropractic and acupuncture treatments are a much more effective, healthy and natural alternative to drug treatments.
Unfortunately, because headaches are such an everyday occurrence, people tend to try and push through the pain. Generally, those who are suffering are more likely to take a painkiller and call it a day. However, painkillers only mask the pain for a short time and do not address the headache's primary cause.
What is Causing My Headache?
What is causing my headache? The causes of headaches are unique to each individual and can be the result many factors.
Does every Headache feel like this? Headaches are described in many ways including:

• Dull
• Sharp
• Achy
• Throbbing
• Splitting
• Intense
• Unrelenting
Headaches can also be warning sign of something more serious and should be diagnosed and treated by a doctor, prompt diagnosis and treatment is recommended.
Identifying Your Headache Triggers
Like migraines, headaches can be caused by numerous factors. Generally, the pain someone experiences from a headache is related to a problem in the pain receptors in their head, neck, and spine. In addition, these incidents of head pain can usually be linked to the prior exposure to an outside influence called triggers.
The most common headache triggers are stress, caffeine, and lack of sleep. Does this sound familiar? In our fast-paced culture, most people experience one if not all three of these factors every day, making tension headaches the most common headaches experienced worldwide.
When you add in other triggers like food sensitivities, elevated barometric pressure, improper spinal alignment, and more, it is not hard to see why so many are living a life of frequent to daily pain. Some of the other more common triggers that induce headaches are the following:
Caffeine
Alcohol
Drugs
Food Sensitivities/Allergies
Barometric Pressure
Bad Posture
Nerve pain
Neck Pain
Back Pain
Anxiety
Herniated Disc
TMJ Disorder
Automobile Accident
Pregnancy
Fibromyalgia
Falls
Backpack Strain
Tech Neck
Lack of Exercise
Obesity
Excessive Exercising
Muscle Strain
Chiropractic Adjustments Relieve Headache Pain & Reduce Their Frequency
The chiropractors at ASFCA treat headache pain at its source, the central nervous system. Once a patient's assessment is complete, and the needed diagnostics, such as X-Rays, are completed, our chiropractors start treatment.
We focus on misalignments in the spinal column, joints, and afflicted limbs. Discomfort from headaches, particularly tension headaches, is caused by muscle tightness in the face, neck, shoulders, and back.
This increased tension puts the joints of the upper spinal column under considerable strain, triggering headaches. Our doctors treat this by performing a gentle chiropractic adjustment to realign a patient's joints manually back to their proper position. This corrects the nervous system's pathways, relieves the muscle strain, and improves the neurons' ability to send and receive signals.
Acupuncture is a Natural Way to Alleviate and Prevent Headaches
Acupuncture is an excellent way to treat symptoms of headaches and migraines. Acupuncture's treatment history has roots that extend over two thousand years into the past. The World Health Organization (W.H.O.) has endorsed acupuncture as a viable and effective treatment regimen for maladies like headaches and migraines since 1979 . In addition, independent studies by Harvard and other traditional medical facilities have validated the efficacy of using acupuncture to treat both headaches and migraines .
The doctors at ASFCA are not surprised by these results. We have successfully relied on acupuncture to treat our patients for years. We have witnessed firsthand how acupuncture helps alleviate our patients' pain and discomfort and reduce the re-occurrence of symptoms.
You Do Not Have to Live a Life of Daily Pain, Let the Pain Relief Experts at ASFCA Help You Today
If you or a loved one are suffering from frequent to constant headaches, let the team at ASFCA help you today. The chiropractors at ASFCA have the expertise to alleviate your pain and get you back to living your best life. Our doctors of chiropractic employ a multifaceted approach to addressing our patients' pain and discomfort. We believe in eliminating our patients' pain and addressing the underlying cause of their distress. In the cases of headaches and migraines, we work with our patients to help them identify their triggers to avoid future instances of debilitating head pain.
Stop Living with Headaches, Invest in Your Health Today!
For best results, we highly recommend that our patients who experience frequent headaches seek regular wellness appointments to prevent future incidents of debilitating pain. Regular spinal adjustments can help keep your spinal column correctly aligned and prevent future incidents of pain. Allow the team at ASFCA to help you! Visit any of our Top-Rated Clinics located throughout the Kansas City Metro Area. Get back to living your best life by scheduling an appointment with us today.
Listed below are some of the diagnostics, services, and treatments that we have available at our top-rated clinics to care for our patients:
Physiotherapy/Physical Therapy
Food Sensitivity & Allergy Testing
X-Rays
Ultrasound Therapy
Special Note:
If you or a loved one experiences headache or migraine that have any of the following symptoms, then you should seek immediate emergency medical treatment via 911 or hospital because they could be signs of a serious, even life-threatening medical emergency:
Sudden Onset of Severe Head Pain, like a Thunderclap
Confusion
Seizures
Unconsciousness
Paralysis
Difficulty Speaking or Slurred Speech
 
Schedule an Appointment – We are here to help you!
Overland Park, KS Clinic
6701 W. 121st Street  |  Suite 200
Overland Park, KS 66209
  913-643-1771
  913-643-1775
Olathe, KS Clinic
10454 S. Ridgeview Rd.
Olathe, KS 66061
 913-689-2333
  913-689-2334
Prairie Village, KS Clinic
4121 W. 83rd St. |  Suite 147
Prairie Village, KS 66208
 913-490-4444
  913-490-4445