How Chiropractic Care Can Help with Sports Injuries
How Chiropractic Care Can Help with Sports Injuries and Why all Professional Athletes have Chiropractors.
Sports injuries can happen quickly. Some injuries are noticeable with instant pain and swelling. While others may seem like nothing happened, but after time surrounding joints, muscles and ligaments become overworked and easily injured from over-compensation.
Chiropractic care helps rehabilitate and realign the body to remove interference and dysfunction. Not only does chiropractic care focus on the injured site, it focuses on the entire body. Chiropractic is very effective for treating injuries and is excellent in helping to prevent injuries and optimizing an athlete's performance. Together, you and your sports chiropractor will develop a care plan that fits your specific needs.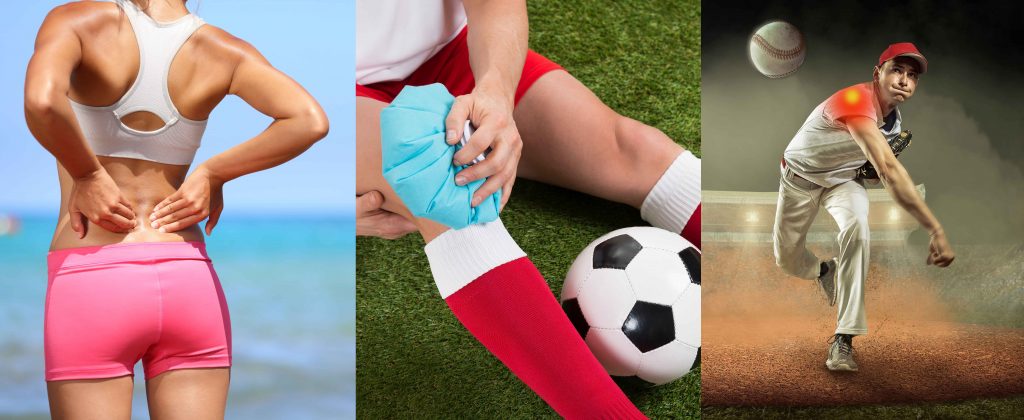 Ways to Reduce Sports Related Injuries
Sports related injuries are not always avoidable, but there are ways to reduce the chance of injury. Our bodies are meant to move. Repetitive movement over time can cause subluxations. A subluxation is misalignment of joints leading to a reduction in range of motion between two opposing bones causing interference on the nervous system and surrounding tissues. Chiropractic care restores the natural range of motion, and removes the subluxation, leading to optimal nerve function.
Chiropractic care offers a variety of therapies and treatment plans that help to increase performance and help reduce the risk of injuries, including: 
If you are struggling with an injury or conditioning your body to optimize performance and help reduce injuries, physical therapy exercises should also be part of your regiment.
These exercises increase:
Range of Motion
Flexibility
Coordination
Balance
Agility
And much more…
It is no wonder that many athletes rely on their chiropractic professionals to keep their body in the best condition possible.
If you or a family member have suffered a sports related injury. Please contact our office. We will schedule you an appointment with one of our doctors, therapists and certified chiropractic sports physicians.
Schedule an Appointment – We are here to help you!
Overland Park, KS Clinic
6701 W. 121st Street  |  Suite 200
Overland Park, KS 66209
  913-643-1771
  913-643-1775
Olathe, KS Clinic
10454 S. Ridgeview Rd.
Olathe, KS 66061
 913-689-2333
  913-689-2334
Prairie Village, KS Clinic
4121 W. 83rd St. |  Suite 147
Prairie Village, KS 66208
 913-490-4444
  913-490-4445