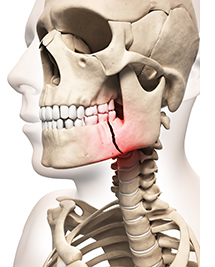 TMJ, short for Temporomandibular Joint, is a hinge joint that connects the back of the jaw to the temporal bone of the skull just in front of each ear. This joint along with the surrounding soft tissues of muscles and ligaments aids in the ability to open and close the jaw during talking, chewing, and yawning.
Did you know that it's the most active joint of the body moving upwards around 2,000 times per day? When this joint becomes misaligned, the result can often be popping or clicking when opening the jaw. Eventually this improper motion can lead to pain around the joint, jaw-locking, or even headaches. With Chiropractic care we look at the joint and evaluate the integrity of the muscles of mastication (the ones we use to eat), the ligaments surrounding the joint, and the alignment of the articulating bones.
Adjustments are often done by hand and with tools to these joints making sure that proper alignment is achieved. Many times, the surrounding muscles have associated trigger points due to the lack of coordination with the rest of the facial muscles. These points can be very tender to the touch and even cause radiating pain to the temple regions creating headaches.
In addition to adjustments to accurately re-position the jaw, we specialize in soft-tissue techniques that can allow these taught muscles to relax. It's also important to check the upper neck vertebra to make sure that all the joints are maintaining proper function because stressed placed on these joints (especially with poor posture) can restrict the jaws ability to open and close correctly.
In fact, by addressing the causes of neck and spinal dysfunction your body's response to the TMJ treatment can become more effective. Even though using medications and restricting your diet to softer foods can help to alleviate the pain, the dysfunction can continue to cause future problems within the joint.
Allowing Chiropractic care can not only ease the pain associated with TMJ dysfunction in the short run but can help to prevent future problems from arising. After all, we want to see the biggest, brightest smile you have to offer.
Schedule an Appointment – We are here to help you!
Overland Park, KS Clinic
6701 W. 121st Street  |  Suite 200
Overland Park, KS 66209
  913-643-1771
  913-643-1775
Olathe, KS Clinic
10454 S. Ridgeview Rd.
Olathe, KS 66061
 913-689-2333
  913-689-2334
Prairie Village, KS Clinic
4121 W. 83rd St. |  Suite 147
Prairie Village, KS 66208
 913-490-4444
  913-490-4445