You Don't Have to Live with It!
"It came on slowly. I don't know what I did but it hurts all the time. It makes sitting hurt. Playing with the kids hurts. Carrying groceries hurts. Riding in cars or sitting on a plane hurts too. Even, well you know, that hurts too "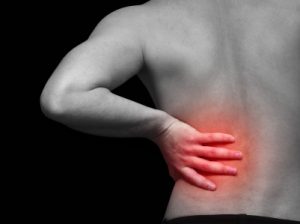 Lower Back Pain isn't uncommon and anyone that has encountered this pain can tell you that it affects almost every aspect of your day. It is one of the top causes of disability in the US and Lower Back Pain can be expensive too! It can cost you time away from work, money spent on medical doctors, dangerous pain medications that don't fix anything, spinal injections, and even surgeries. But there is a better option.
Pain pills are an easy option but with all the news reports about Opiate pain medication addiction – far too many dangerous consequences are involved. Over the counter pain medications can sometimes take the edge off for a little while but how many pills are you relying on just to get through the day and are they the cause of your pain? There must be a better way and There IS!
In a 2017 study published by the Journal of the American Medical Association it was found that spinal manipulative therapy – Yes, Chiropractic Adjustments for six weeks or less produced significant improvements in patient function and decreased levels of pain. The study determined that chiropractic is a safe, effective, and drug-free approach for Lower Back Pain.
Even the American College of Physicians (ACP) has officially published guidelines for Lower Back Pain supporting CHIROPRACTIC as the first choice for patients with both acute and chronic Lower Back Pain. According to the ACP, medications are the least affection option for long term Lower Back Pain relief, yet the most common prescribed. Seems backwards doesn't it?
Did you catch that? Medical doctors have officially recognized that Chiropractic is the first choice for care of Lower Back Pain. But not all chiropractors are the same, matter of fact there are many techniques and subspecialties in the Chiropractic Profession. Our doctors at Advanced Sports and Family Chiropractic and Acupuncture have successfully treated hundreds of thousands of lower back pain cases and we are prepared to help you to!
We have an elite TEAM of doctors who partner up to have the best facilities and staff around. Our doctors have trained at Cleveland, Logan, Palmer, and Northwestern Chiropractic Colleges and have sub-specialties such as: Certified Chiropractic Sports Physicians, Certified Strength and Conditioning Specialists, Pediatrics, Prenatal Care, Acupuncture, Nutrition and the list continues…
We take the time to understand the source of your Lower Back Pain and treat the Cause, not just the symptoms. Our care programs involve 3 phases beginning with Relief, Rehabilitation, and Correction.
Our office has been recognized by Integrity Doctors as one of the Top in the Nation and has honored us with the 5 Star Service Award since 2009!
Come and see what makes us your choice! Kansas City's Premier Choice for Non-Surgical Spine Care. We have offices in Downtown Lee's Summit, Belton/Raymore Missouri and Overland Park Kansas.
ASFCA can help Acute & Chronic Lower Back Pain!
Schedule an Appointment – We are here to help you!
Overland Park, KS Clinic
6701 W. 121st Street  |  Suite 200
Overland Park, KS 66209
  913-643-1771
  913-643-1775
Olathe, KS Clinic
10454 S. Ridgeview Rd.
Olathe, KS 66061
 913-689-2333
  913-689-2334
Prairie Village, KS Clinic
4121 W. 83rd St. |  Suite 147
Prairie Village, KS 66208
 913-490-4444
  913-490-4445