INSTRUMENT ASSISTED SOFT TISSUE TREATMENTS
There are multiple techniques and brands of tools that have been created to perform Soft Tissue Manipulation and Myofascial Release Therapies. This type of manual therapy utilizes specific instruments to break down scarred tissues, loosen up muscular knots and aid in alleviating painful areas of the body, while increasing circulation to promote healthy healing. Graston Technique is likely the most well know of these techniques.
Instrument Assisted Soft Tissue Manipulation does this by breaking up the adhesions around the muscle fibers that are causing pain, cramping and knotting. An adhesion is a band of scar tissue that binds two parts of tissue or organs together. Adhesions may appear as thin sheets of tissue like plastic wrap or as thick fibrous bands¹. This therapy targets scared and inflamed tissues and increases the blood flow to the affected area and eases the pain of movement.
The technique requires tools that are often made of stainless steel. Depending on the condition, its depth and angles needed, will decide the material and shape of the tool. Most facilities either use stainless steel, hard plastics or bull horn.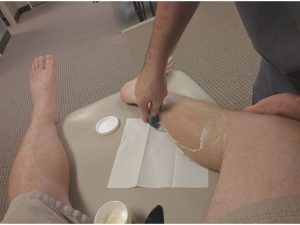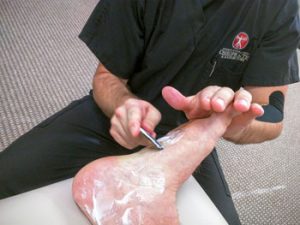 There are different sizes for different parts of the body such as the shoulder, hands and neck. Your doctor or therapist will apply a lotion or lubricant for ease of gliding over the skin. Firm pressure is used and as the instrument moves along the treated area, they can feel the difference with the motion when the tool crosses over scarred or inflamed tissue.
Is the Therapy Painful?
Instrument Assisted Soft Tissue Therapy is not painful, but for some it may be described as a "tender but relieving pain" depending on the severity of the scarred tissue and inflammation of the treated area. It is common for the area to be red for a while or even slightly bruised with the breaking up of the scarred tissue. This is normal and the slight bruising and redness usually go away within a day or two.
Can Instrument Assisted Soft Tissue Therapy be Combined with other Therapies?
Absolutely, Chiropractic, Acupuncture and other therapies such as Cupping Therapy, Cold Laser, Disc Decompression Therapy are meant to flow together for whole body holistic care and healing.
¹ Eugene Hardin, MD, FACEP, FAAEM; Christopher R Westfall, DO; John P. Cunha, DO, FACOEP. (2018, November 6). Adhesions (General and After Surgery). Retrieved from https://www.emedicinehealth.com: https://www.emedicinehealth.com/adhesions_general_and_after_surgery/article_em.html
Schedule an Appointment – We are here to help you!
Overland Park, KS Clinic
6701 W. 121st Street  |  Suite 200
Overland Park, KS 66209
  913-643-1771
  913-643-1775
Olathe, KS Clinic
10454 S. Ridgeview Rd.
Olathe, KS 66061
 913-689-2333
  913-689-2334
Prairie Village, KS Clinic
4121 W. 83rd St. |  Suite 147
Prairie Village, KS 66208
 913-490-4444
  913-490-4445