Do You ever Experience Dizziness, Lightheadedness, or Unsteadiness During the Day?
Have you ever experienced the sensation that you or your surroundings are moving, yet there is no movement?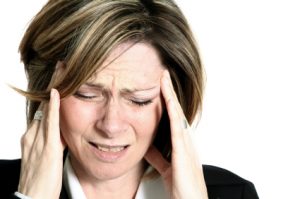 If so, you may have experienced vertigo, which can make you feel as though you are spinning, falling, or tilting; or that the world around you is spinning or tilting. Loss of balance, sweating, headaches, and nausea can also occur when experiencing vertigo.
While there are many causes of vertigo including trauma and medications, the most common cause is benign paroxysmal positional vertigo (BPPV). BPPV typically causes brief, intense episodes of vertigo following a change in your head positioning, such as when you sit up or roll over.
BPPV occurs as a result of otoconia. Otoconia are very small crystals of calcium carbonate that are a normal part of the inner ear's anatomy. They can become dislodged from where they are normally located on the utricle (one of the inner ear's sensory organs). They are then free to float around in the fluid-filled spaces of the inner ear. Sometimes, they collect in the semicircular canals of the inner ear, which are responsible for sensing rotation and movement of the head. While your head is still, the otoconia can clump up and settle due to gravity. When you move your head, the otoconia then move and shift. This stimulates that portion of the inner ear to send false signals to the brain, thus producing the vertigo symptoms.
The Chiropractic Physicians at ASFCA in Overland Park and Lee's Summit can help relieve you of dizziness and vertigo. To diagnose your case, your doctor will perform an examination and a variety of positioning tests. They can then perform any procedures (such as the Epley maneuver) to help move the otoconia to a different position in the inner ear, where they will not cause vertigo symptoms.
Your doctor can also perform any chiropractic adjustments that may be necessary in order to help your nervous system return to proper function. Acupuncture is another therapy we offer to help treat dizziness.
Schedule an Appointment – We are here to help you!
Overland Park, KS Clinic
6701 W. 121st Street  |  Suite 200
Overland Park, KS 66209
  913-643-1771
  913-643-1775
Olathe, KS Clinic
10454 S. Ridgeview Rd.
Olathe, KS 66061
 913-689-2333
  913-689-2334
Prairie Village, KS Clinic
4121 W. 83rd St. |  Suite 147
Prairie Village, KS 66208
 913-490-4444
  913-490-4445