As Summer ends, students across the globe begin to get ready for the New School Year that is looming in the not-too-distant future. For many students, lugging books and school supplies to and around their school is a way of life, and a backpack can help them with this arduous endeavor. For parents of school-age kids, this often means picking out the backpack with colorful aesthetic displaying their kid's favorite characters. However, there are many more factors our patients should consider before purchasing their next backpack for themselves or their children.
Backpack use can have a tremendous impact on the health of a student's spine. Over time, an ill-suited backpack can cause harmful conditions like Neck Pain, Back Pain, and even a Bulging Disc. To avoid these and other unsettling disorders consider backpacks with the following features:
Backpack Weight
Backpack weight is a key stressor when it comes to discomfort caused by wearing a backpack. According to the American Chiropractic Association,1 the heft of a backpack should not exceed ten percent of the wearer's weight.
Backpack Size
Backpack size is another factor to consider when getting a backpack. When purchasing backpacks for children, parents should consider getting a small or medium model. These sizes will fit on their shoulders better. Smaller sizes will also discourage them from overloading their compartments with needless paraphernalia.
Backpack Straps
Backpack straps can be a significant factor on whether a backpack is suitable for its wearer. The straps of a backpack should be padded and broad. Students should make sure that their backpack straps are adjusted to fit their shoulders properly. The straps should be loose enough that they can put them on easily, but not so slack that they dangle at an awkward angle.
Utilize Both Backpack Straps
Backpack straps should be worn when wearing a backpack. If a student chronically carries their backpack on only one shoulder, it could lead to a muscle strain or injury.
Avoid Dangling Backpacks
Dangling backpacks can also place an enormous strain on a student's shoulders and back. As a rule, a backpack should not drop four inches below their waistline. Packs that fall below this point place an unnecessary tension on their wearer's shoulders, possibly causing spinal misalignment.
Backpack Waist Straps
Backpack waist straps are another option that students should consider when purchasing a backpack. Avid hikers know the benefits waist straps, as it even distributes the weight of the backpack on hips as well as the shoulder, therefore sharing the burden across the wearer core.
Backpack Compartments
Backpack compartments are another factor that should be considered when students are out picking their next backpack. One large pouch might be enough to carry an entire load of school supplies, but it can also put an extra stress on a student's back and shoulders. Backpacks that have multiple compartments instead of one large pouch make it easier to distribute the weight evenly on their straps.
Backpack Wheels
Backpack wheels on backpacks take the weight entirely off a student's shoulders. Packs with inlaid wheels allow them to comfortably lug their schoolbooks and supplies without undergoing any of the unnecessary strain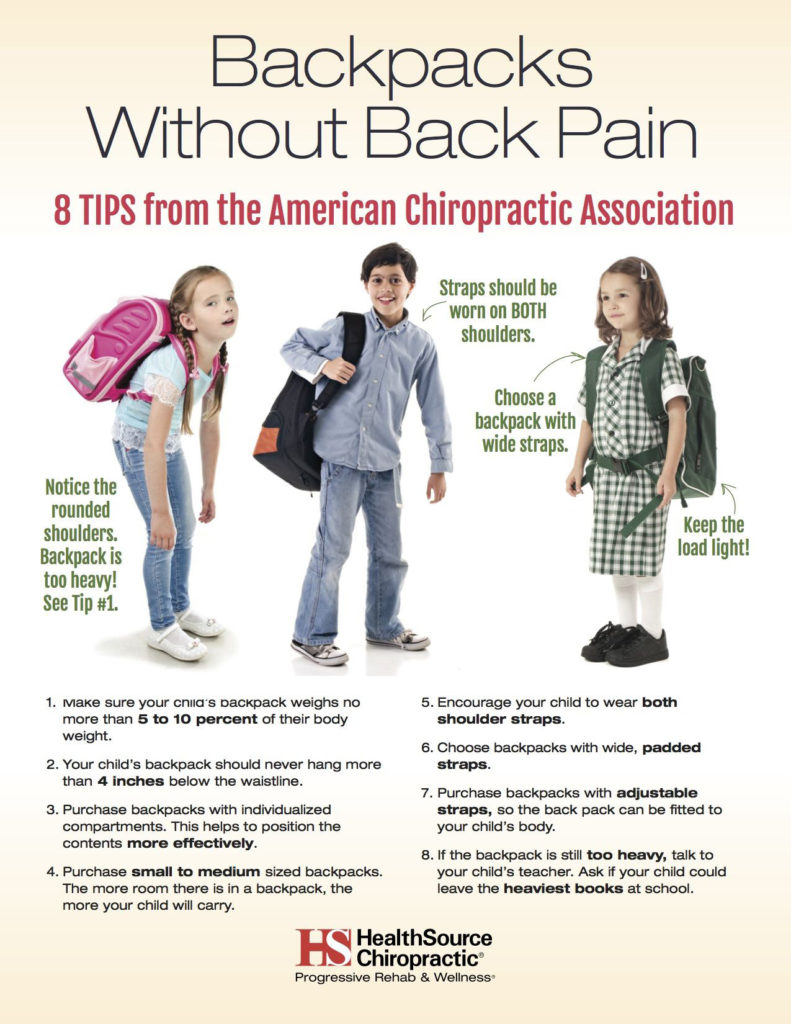 Schedule an Appointment – We are here to help you!
Overland Park, KS Clinic
6701 W. 121st Street  |  Suite 200
Overland Park, KS 66209
  913-643-1771
  913-643-1775
Belton/Raymore, MO Clinic
17027 Bel-Ray Blvd.
Belton, MO 64012
 816-425-7015
  816-425-2117
Prairie Village, KS Clinic
4121 W. 83rd St. |  Suite 147
Prairie Village, KS 66208
 913-490-4444
  913-490-4445
Lee's Summit, MO Clinic
338 Southwest Main St.
Lee's Summit, MO 64063
 816-600-5483
  816-524-5328
Olathe, KS Clinic
10454 S. Ridgeview Rd.
Olathe, KS 66061
 913-689-2333
  913-689-2334