Research proves that longevity and quality of life directly relate with the efficiency of heart rate variability. Heart rate variability (HRV) records the measured changes of time intervals between successive heart beats. The autonomic nervous system directly controls HRV. A balance in heart rate variability has proven to increase both the length and quality of an individual's life. A study in 2010 showed a correlation between an increase in HRV and longevity because healthy longevity depends on the preservation of autonomic function measured through HRV.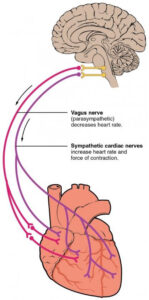 Many factors influence heart rate variability. One major influence of autonomic function measured through HRV rests within the alignment and function of the spine. An intimate relationship exists between the spine and autonomic nervous system that usually goes overlooked by most general healthcare providers. Quality of posture and spinal health directly links to the health of the autonomic nervous system and HRV. Chiropractic adjustments focus on improving posture and spinal health through the detection and correction of subluxations. Subluxations are defined as the altered alignment and mobility of a vertebra in the spine. Subluxations produce interference in the central nervous system, altering the information sent from the brain to the body. Chiropractors focus on detecting and correcting subluxations through adjustments scientifically executed to restore appropriate autonomic nervous system function.
Chiropractic gained much notoriety for countless successful interventions on back pain and musculoskeletal health. New research helped further prove the foundational tenets rooted in Chiropractic's development hundreds of years ago. Proper alignment of the spine influences much more than musculoskeletal pain. An amazing study from 2013 helped prove the significant improvements on HRV achieved through spinal adjustive care.
Schedule an Appointment - We are here to help you!
Overland Park, KS Clinic
6701 W. 121st Street  |  Suite 200
Overland Park, KS 66209
 913-643-1771
  913-643-1775
Olathe, KS Clinic
10454 S. Ridgeview Rd.
Olathe, KS 66061
 913-689-2333
  913-689-2334
Prairie Village, KS Clinic
4121 W. 83rd St. |  Suite 147
Prairie Village, KS 66208
 913-490-4444
  913-490-4445
Lee's Summit, MO Clinic
338 Southwest Main St.
Lee's Summit, MO 64063
 816-600-5483
  816-524-5328
Belton/Raymore, MO Clinic
17027 Bel-Ray Blvd.
Belton, MO 64012
 816-425-7015
  816-425-2117
Blue Springs, MO Clinic
622 SW US 40 Hwy
Blue Springs, MO 64014
 816-815-7007
  816-815-7008