Decisions determine outcomes and information helps drive decisions. This process applies to all aspects of life, particularly as it relates to health care decisions. Chiropractors seek to inform the public about the proven benefits and expected outcomes of chiropractic care. Information belongs in the hands of those making decisions that affect the health care of every family.
Choosing a health care provider tends to be an important step that dictates future health related decisions. Research from a 2013 study showed that the greatest determining factor in whether or not a patient decided to have back surgery began with the type of care provider the patient first visited. Patients stated that their care provider influenced the decision to have surgery more so than the severity of existing back pain.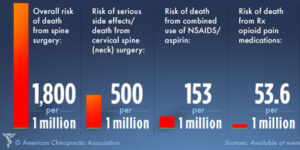 Back pain results in more missed work days and more reported cases of disability than any other affliction in America. Chiropractic not only proves to be a safe and non-invasive alleviation of back pain but also proves to be the most effective solution. Research from 2003 showed that Chiropractic care improved spinal pain and function five times better than non-steroidal anti-inflammatory drugs (NSAIDs like Advil, Motrin, Tylenol, etc).
A more recent study determined that choosing an initial care provider will be the most important decision made by someone experiencing any form of spine or neck pain. The ground-breaking research published in the 2013 Spine Journal revealed statistics worth presenting to every family in America. The study showed that approximately 43% of workers experiencing back or spinal pain who saw a surgeon as their first point of contact had surgery within three years. Those workers who first visited a Chiropractor ended up in surgery only 1.5% of the time.
People consulting chiropractors for pain or function problems experienced the highest quality of care and success approval ratings while freeing themselves from unnecessary surgery, loss of work, and substantial hospital bills. The public deserves to be informed of these statistics, especially when research proves the existence of healthier and more cost efficient alternatives to high risk surgeries that result when people with spine and function issues first visit medical doctors and surgeons. Chiropractic adjustments serve a purpose far beyond simply treating aches and pains. Adjustments remove interference in the nervous system so the brain and body can function without compromise. A healthy spine produces healthy brain to body communication and improved nervous system function. Science and research prove that Chiropractic adjustments produce health benefits beyond initial pain relief. Chiropractors intend to educate the public about cutting-edge research that enables all people to make informed health care decisions.
Schedule an Appointment - We are here to help you!
Overland Park, KS Clinic
6701 W. 121st Street  |  Suite 200
Overland Park, KS 66209
 913-643-1771
  913-643-1775
Olathe, KS Clinic
10454 S. Ridgeview Rd.
Olathe, KS 66061
 913-689-2333
  913-689-2334
Prairie Village, KS Clinic
4121 W. 83rd St. |  Suite 147
Prairie Village, KS 66208
 913-490-4444
  913-490-4445