Approximately five to seven million children in the U.S. wet the bed 10-15% of children wet the bed until age six. Bed-wetting often leaves parents scratching their heads and digging into their wallets in search of solutions. Many of the children experiencing enuresis, the official diagnosis given to the inability to control urination, live with embarrassment and hopelessness when many forms of intervention do not provide a solution. Chiropractic offers hope and delivers unique results to many children suffering from consistent bed wetting.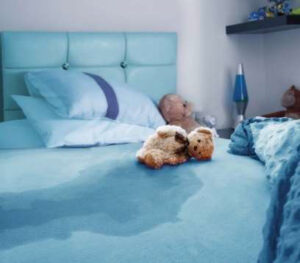 The struggle of bed-wetting brings embarrassment and frustration to parents and children alike. A mental and emotional burden adds to the extra laundry and impacts both relationships and a child's self-esteem. Nocturnal enuresis does not classify as a major health concern but certainly influences the way children view themselves. Studies show that just one bout of bedwetting per month causes a child's self-esteem to be significantly influenced.
Chiropractic focuses on the cause of functional issues in the body. Long term benefits occur for those suffering from enuresis and other ailments because chiropractic helps to heal and improve performance within the body. The top medical interventions for bed wetting involve setting alarms and taking medications that reduce the amount of urine production. Some interventions even involve taking anti-depressants. Chiropractors do not focus on the bladder. Nervous system care improves communication between the brain and body by restoring proper spinal alignment and motion. Research done on children suffering with bed wetting showed that those receiving chiropractic adjustments significantly reduced the number of wet nights with many transitioning out of the bed-wetting stage soon after.
Schedule an Appointment - We are here to help you!
Overland Park, KS Clinic
6701 W. 121st Street  |  Suite 200
Overland Park, KS 66209
 913-643-1771
  913-643-1775
Belton/Raymore, MO Clinic
17027 Bel-Ray Blvd.
Belton, MO 64012
 816-425-7015
  816-425-2117
Prairie Village, KS Clinic
4121 W. 83rd St. |  Suite 147
Prairie Village, KS 66208
 913-490-4444
  913-490-4445
Lee's Summit, MO Clinic
338 Southwest Main St.
Lee's Summit, MO 64063
 816-600-5483
  816-524-5328
Olathe, KS Clinic
10454 S. Ridgeview Rd.
Olathe, KS 66061
 913-689-2333
  913-689-2334
Blue Springs, MO Clinic
622 SW US 40 Hwy
Blue Springs, MO 64014
 816-815-7007
  816-815-7008