Human beings tend to treat problems reactively rather than visualize problems on the horizon. Preventative care and proactive of health decisions represent some of the smartest and most cost-effective approaches for the whole family. The brain tends to address issues of immediate concern. The brain usually waits (reactively) until pain presents before calling attention to a health issue. Too often the problem existed for a previous time and could have been addressed to a healthier end.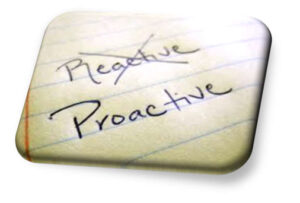 Chiropractic care and physical therapy interventions help address problems before they become bigger and more permanent. Chiropractors use objective and specialized testing to determine the location and extent of a problem that needs to be addressed. America prescribes more prescription drugs than any country in the world. That reality contrasts with parents and families making a conscious decision to raise children and pursue health choices that do not involve dependency or need for medications. Chiropractic and physical therapeutic healthcare continue to gain momentum and popularity because of research that reveals the benefits of working with the body and honoring its ability to heal itself. When it comes to health care, good things come to those who don't wait.
Schedule an Appointment - We are here to help you!
Overland Park, KS Clinic
6701 W. 121st Street  |  Suite 200
Overland Park, KS 66209
 913-643-1771
  913-643-1775
Olathe, KS Clinic
10454 S. Ridgeview Rd.
Olathe, KS 66061
 913-689-2333
  913-689-2334
Prairie Village, KS Clinic
4121 W. 83rd St. |  Suite 147
Prairie Village, KS 66208
 913-490-4444
  913-490-4445
Lee's Summit, MO Clinic
338 Southwest Main St.
Lee's Summit, MO 64063
 816-600-5483
  816-524-5328
Belton/Raymore, MO Clinic
17027 Bel-Ray Blvd.
Belton, MO 64012
 816-425-7015
  816-425-2117
Blue Springs, MO Clinic
622 SW US 40 Hwy
Blue Springs, MO 64014
 816-815-7007
  816-815-7008