The month of March, for many people, means the beginning of Spring!!! It is also, undoubtedly, the best month for basketball!! However, more than anything, the month of March is known for St. Patrick's Day, that time of year when everything is green and you don't have to be Irish to enjoy a bit of luck. But you and your AMAZING body don't have to wait until St. Patty's Day, because you're lucky all day, EVERY day!!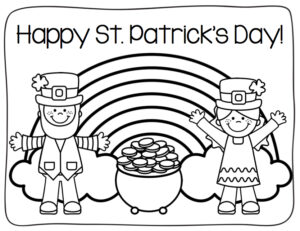 You may have already known how lucky you were to have those five senses: sight, hearing, smell, taste, and touch. But did you also know that you have other senses?? One of those is called proprioception, that is your sense of space. You can test your proprioception by doing the following: hold your arms out to the side like you are making a letter 'T' with your body. Then close your eyes. Now try to touch your nose with your index finger. Your ability to do this shows that you are aware of where your body is in space without being able to see it. That is proprioception and you are lucky to have it. It keeps you from bumping into lots of things. That's not just lucky, that's AMAZING!!!
Proprioception, like almost everything in the body, is controlled by the nerve system. The better your nerve system is working, the better your body will work. And that's not up to luck either. Your family chiropractor will check your spine to make sure that misalignments, called vertebral subluxations, are not disrupting your nerve system, keeping it from functioning at its best. Vertebral subluxations can be caused by many of simple things we do every day. See your chiropractor regularly to keep your nerve system working at its best and that will increase your luck and good fortune immensely.
Schedule an Appointment - We are here to help you!
Overland Park, KS Clinic
6701 W. 121st Street  |  Suite 200
Overland Park, KS 66209
 913-643-1771
  913-643-1775
Olathe, KS Clinic
10454 S. Ridgeview Rd.
Olathe, KS 66061
 913-689-2333
  913-689-2334
Prairie Village, KS Clinic
4121 W. 83rd St. |  Suite 147
Prairie Village, KS 66208
 913-490-4444
  913-490-4445
Lee's Summit, MO Clinic
338 Southwest Main St.
Lee's Summit, MO 64063
 816-600-5483
  816-524-5328
Belton/Raymore, MO Clinic
17027 Bel-Ray Blvd.
Belton, MO 64012
 816-425-7015
  816-425-2117
Blue Springs, MO Clinic
622 SW US 40 Hwy
Blue Springs, MO 64014
 816-815-7007
  816-815-7008