Chiropractic adjustments influence the same blood chemistry known to prevent the progression of aging. One of the many unique and profound benefits that accompany an adjustment involves slowing the stress and aging process. Most chiropractic patients begin care because of back or neck problem. Yet the benefits of adjustments extend well beyond pain relief. Anti-aging serves as an evidence-based benefit of chiropractic because of its influence on blood chemistry.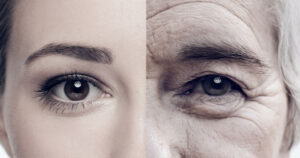 Almost $300 million is spent each year on anti-aging products and solutions. That amount represents over a 300% increase from just ten years ago. Many naturally oriented healthcare solutions targeted their products and services towards anti-aging because of a growing interest by consumers. Many of these consumers spend massive amounts of money on products geared toward an outcome that occurs naturally from regular chiropractic adjustments.
Schedule an Appointment - We are here to help you!
Overland Park, KS Clinic
6701 W. 121st Street  |  Suite 200
Overland Park, KS 66209
 913-643-1771
  913-643-1775
Olathe, KS Clinic
10454 S. Ridgeview Rd.
Olathe, KS 66061
 913-689-2333
  913-689-2334
Prairie Village, KS Clinic
4121 W. 83rd St. |  Suite 147
Prairie Village, KS 66208
 913-490-4444
  913-490-4445
Lee's Summit, MO Clinic
338 Southwest Main St.
Lee's Summit, MO 64063
 816-600-5483
  816-524-5328
Belton/Raymore, MO Clinic
17027 Bel-Ray Blvd.
Belton, MO 64012
 816-425-7015
  816-425-2117
Blue Springs, MO Clinic
622 SW US 40 Hwy
Blue Springs, MO 64014
 816-815-7007
  816-815-7008